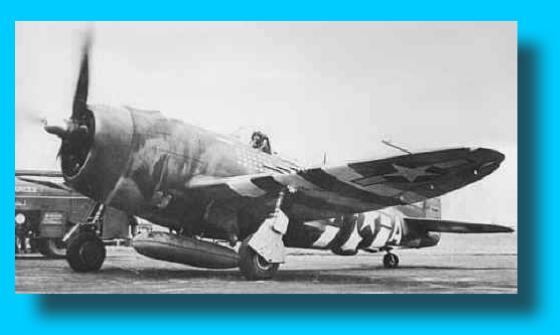 Last Updated: 02 March, 2005
The Republic P-47 Thunderbolt, affectionately known throughout history as "the Jug" (short for "Juggernaut" for it's large size and stout appearance) is one of the classic fighters of the Second World War. It was also the largest single engine, single seat fighter of the Second World War. It fulfilled many different roles from fighter to ground attack, making it also one of the most versatile.
It combined, into a single airframe, great speed and superior diving ability, tremendous strength and withering firepower. Powered by the massive 18 cylinder Pratt & Whitney R-2800 radial engine, it could achieve speeds of nearly 430 mph at 30,000 feet. It was extremely rugged, able to take punishment that would have torn other contemporary fighters in half. More than once it brought a pilot home safely with as many as 4 cylinders destroyed or missing huge chunks of airframe. It was referred to by many as a "flying tank".
The Thunderbolt operated with distinction in both European and Pacific theatres in a wide variety of roles ranging from fighter escort to close air support to ground attack. Many of the aces to come out of these theatres flew Thunderbolts.
This site is dedicated to this impressive airplane and to all the pilots and ground crew that made her an enduring symbol of American airpower and aviation.
Note: Many pages on this site are graphics intensive and may take a while to load. Please be patient.
Visits since 10 March 2002